EDITORIAL: Rolling out the welcome mat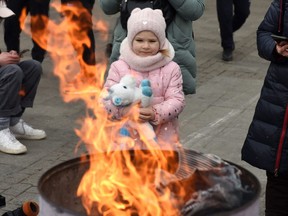 A child warms herself next to a fire as people wait for a train to Poland at the railway station of the western Ukrainian city of Lviv on March 6, 2022, 11 days after Russia launched a military invasion on Ukraine. Photo by YURIY DYACHYSHYN /AFP via Getty Images
The humanitarian crisis that's unfolding in the wake of Russia's invasion of Ukraine is heartbreaking.
It's estimated more than a million refugees have fled Ukraine and the world is once again bracing to find ways to resettle a population that's been devastated by a war they didn't start.
Ukrainians are highly educated and many already speak English — often a hurdle that delays the path to employment for refugees.
But we must be intelligent in the way they're settled, and not go about this in a haphazard fashion.
There are housing crises in many large cities in this country. It would be unfair and unwise to allow a large influx of unsupported refugees into regions where rents have skyrocketed and housing costs are beyond the reach of the average family.