EDITORIAL: Support Ukraine, while keeping out of the war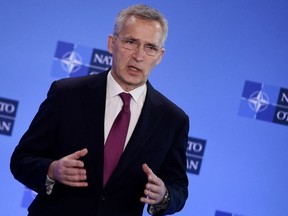 NATO Secretary General Jens Stoltenberg speaks to the media along side the US Secretary of State, prior to the start of a NATO foreign ministers' meeting following Russia's invasion of Ukraine, at the Alliance's headquarters in Brussels, Belgium, March 4, 2022. Photo by POOL /REUTERS
Canadians continue to watch in horror as Russian dictator Vladimir Putin keeps up his assault on the people of Ukraine.
Whether it's the attacks on Ukraine's largest nuclear plant or the images of sick kids hiding in the basement of a children's hospital, Russian forces are making some truly repugnant tactical decisions that deserve the world's condemnation.
There are some things though that Canada and our allies will not do right now, and that is understandable.
Calls to establish a no-fly zone have been rejected by Biden, Trudeau, NATO and others. While the idea of creating such a zone sounds good at first, the practical implications are that it means we shoot down Russian planes.
There's no mincing words about what that would mean: That's called the Third World War. And, as much as Putin is fully to blame for intruding on Ukrainian soil, he has yet to start a global conflagration.