EDITORIAL: The 'new normal' changes worth keeping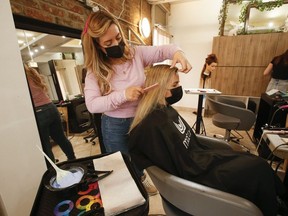 The Province of Ontario has announced that mask mandates will be over on March 21 with some exceptions to what they call high-risk setting like hospitals, transit, long-term care, jails. (Pictured) At Salon Goulart on Crawford St. north of Trinity Bellwoods Park owner/stylist Melissa Hellam prepares to work on client Diana Alves' hair for a touch up and both are happy the mandates will end on Wednesday March 9, 2022. Photo by Jack Boland /Jack Boland/Toronto Sun
It's good news that Canada is finally moving away from COVID-19 mandates. The time is right.
When it comes to things like masks, people deserve the right to choose whether to wear them or not.
That's why we hope employers will reflect on things they can do to ease this process.
One other big change that has its long-term benefits is work-from-home.
"Nearly half of Canadian office workers surveyed — 43% — said they'd find a new job if their employer made them return to the office full-time, according to the Amazon Business Return to Office Report," a recent Sun story explained. "Only 12% were in favour of working entirely at the office."