EDITORIAL: The Oscars is still out of touch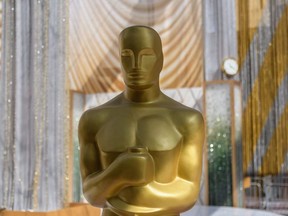 In this file photo taken on March 25, 2022, an Oscar statue is seen near the red carpet area ahead of the Oscars Award show at the Dolby Theater on Hollywood Boulevard in Los Angeles, California, on March 25, 2022. Photo by ANGELA WEISS /AFP via Getty Images
The entertainment industry is no doubt pleased with this headline from Variety magazine: "Oscars Draw 16.6 Million Viewers, Soaring 58% From Last Year's Historic Low". The marquee event really needed a boost.
Last year, only 10 million people tuned in to what's supposed to be one of the hottest nights of the year. Then again, this year's tally is still a massive drop from the 35 million viewers they scored in 2016 and a nosedive from the all-time record — 55 million people tuning in for the 1998 ceremony when Titantic won Best Picture.
The answer to that question is a resounding no. (Despite the fact a few apologists have surfaced.)
The Oscars is supposed to be an evening of glamour, not one spent in the gutter. How do people explain to their kids these scenes of violence from people who are supposed to be role models?
We know, we know. Actors shouldn't always be our role models. But there's no denying that Will Smith in particular holds a special place in the hearts of many people who grew up watching Fresh Prince and those younger cohorts who caught the show in re-runs.