EDITORIAL: Trudeau buys a majority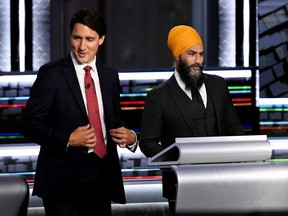 Liberal Leader Justin Trudeau and NDP Leader Jagmeet Singh take part in the federal election English-language Leaders debate in Gatineau, Canada, September 9, 2021. Photo by POOL /REUTERS
Canadians who collectively voted for a Liberal minority government last year now have an NDP-backed Liberal majority government until 2025.
That's because of a backroom deal called a "confidence and supply agreement" between Prime Minister Justin Trudeau and NDP leader Jagmeet Singh — that both the Liberals and NDP denied was being negotiated, while they were negotiating it.
In return, the Liberals have agreed to a number of expensive promises with no price tags attached, including dental care, pharmacare, more money for subsidized housing and national standards for long-term care homes.
Federally-regulated businesses will be required to give 10 days of paid sick leave to their employees and will be prohibited from hiring replacement workers ("scabs") during a strike or lock-out. 
On the revenue side, the government will phase out subsidies to the fossil fuel sector beginning this year and raise taxes on financial institutions that made "strong profits" during the pandemic.