EDITORIAL: Trudeau needs to halt these harmful carbon tax increases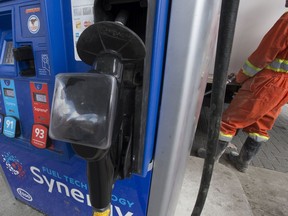 Gas prices are going up this week as a result of the Liberal Government's carbon tax. PM Trudeau says taxpayers will get most of it back. Monday April 1, 2019. Photo by Stan Behal /Stan Behal/Toronto Sun
The price of everything is rising. Canadians are feeling the pressure. For low-income Canadians, things are getting more difficult than ever. Food bank usage, to offer just one example, is sadly on the rise.
Prime Minister Justin Trudeau is scandalously planning to making this worse. Let us explain.
The Liberal government recently reiterated that they're committed to bringing in this tax increase no matter what. They're also still planning to introduce a second, overlapping carbon tax known as the Clean Fuel Standard.
It makes no rational or economic sense other than to say that they're so blinded by ideology that they're not bothered about the harms these measures will cause.
The Parliamentary Budget Officer confirmed only earlier this week that the carbon tax is no longer revenue neutral for the majority of Canadians, which violates a key promised made by Trudeau.