EDITORIAL: Trudeau strikes a balance on Ukraine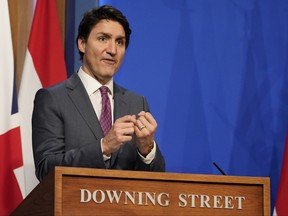 Prime Minster Justin Trudeau speaks at a joint press conference attended by Britain's Prime Minister Boris Johnson, and Netherlands Prime Minister Mark Rutte, where they gave an update on the Russian invasion of Ukraine, at Downing Street on March 7, 2022 in London. Photo by Alberto Pezzali – WPA Pool /Getty Images
Canada is managing a delicate balancing act when it comes to our response to the war in Ukraine.
We're currently watching, alongside our NATO partners, as Russian dictator Vladimir Putin continues his needless assault on the eastern European country. Canadians are troubled by the harms that are being inflicted upon civilians, including children.
Yet there are those who want the PM to put even more options on the table, especially to lend his voice to the creation of a "no fly zone." That would be a problem. That means shooting down Russian jets, and that means the potential beginning of a world war.
Canada has so far sided with NATO to reject the notion of implementing such a zone and to say no to any direct military engagement with Russia.
There is a lot of heated emotion right now, and understandably so. The images out of Ukraine are horrible. But it's reassuring to see that Trudeau is not letting emotions guide him right now.