ELDER: Gavin Newsom's firewall of Republican-hating voters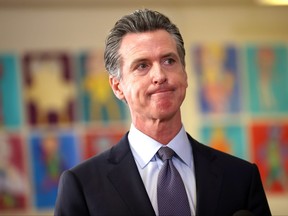 California Gov. Gavin Newsom speaks during a news conference after meeting with students at James Denman Middle School on Oct. 1, 2021 in San Francisco, Calif. Photo by Justin Sullivan /Getty Images
I arrived early for my dinner with a friend at a restaurant on the Westside of Los Angeles. At the table to my right sat two women. We started talking.
They had known each other since second grade, and one was celebrating her 85th birthday. One was a psychotherapist, the other a "human rights activist." Both were Jewish. A few minutes into the conversation, one said: "Wait. I know who you are. You ran for governor." After I confirmed her suspicion, she said, "Guess who I voted for." I smiled. "You didn't vote for me." "How do you know?" she asked.
"How do you feel about our homelessness problem?" I asked. The human rights activist responded, "If we provide housing and treatment — and there's plenty of money for both — then I don't understand why people are allowed to remain on the streets." I said, "That was exactly my position during the campaign."
"What about the quality of California's K-12 government schools?" I continued: "Pre-pandemic, nearly 70% of black third graders could not read at state proficiency levels, with math scores not much better. Almost half of all third graders cannot read at state proficiency levels, with math scores about the same. Are you OK with that?" They both called it "a travesty."
We turned to the governor's draconian COVID-19 lockdown of business and of in-school education. They said they had been "double-vaxxed with a booster." "So have I," I said. "We're in high-risk categories. But I don't think the state should've been shut down when the risk for young and healthy people is low. Do you?" They agreed with me.