ELDER: Let's talk about vitriol in politics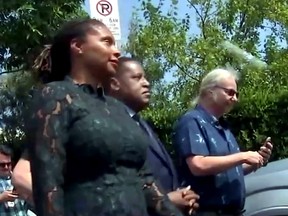 An egg (top right) is thrown at then-gubernatorial candidate Larry Elder during a campaign stop in Venice, Calif. Photo by Screen grab /ABC7.com video
There's an old joke about the convicted defendant who, after killing his parents, asked the judge for leniency because, after all, the murderer is now an orphan. A recent editorial in the Los Angeles Times is not quite the same. But it's close.
Here's the headline: "The Vitriol in Politics Is Driving Good People Out of Public Service." The editorial laments the decision by a Los Angeles City two-term councilman, who, after taking several constituent-displeasing positions, decided not to run for reelection.
Those positions include voting against an ordinance to declare certain public streets and public areas off-limits to the homeless and voting to cut the city police budget and redirect the money for "youth programs." What's not to like in a city plagued by rising homelessness and homicides (up 50% since 2019)?
But the point here is not to attack or defend the councilman's policy positions. The point is the hypocrisy of the Times in denouncing the "vitriol in politics" that supposedly drove him to decide against running for reelection.
Some nerve. This is a newspaper that hired columnist Erika D. Smith who, when I ran in the election to recall California Gov. Gavin Newsom, wrote a column with the headline: " Larry   Elder  Is the Black Face of White Supremacy. You've Been Warned."
Smith wrote: "Like a lot of Black people, though, I've learned that it's often best just to ignore people like  Elder . People who are — as my dad used to say — 'skinfolk' but not necessarily kinfolk." If that was too subtle, she called me a "Trump fanboy," "dangerous" and a "troll," adding: "His candidacy feels personal. Like an insult to Blackness." The reaction from non-conservative media outlets … crickets. There is, please understand, but one way to be black — and that is left-wing.