FATAH: Here's why Trudeau-Singh deal is good for Canadians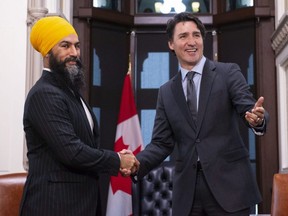 NDP leader Jagmeet Singh meets with Prime Minister Justin Trudeau on Parliament Hill in Ottawa, Nov. 14, 2019. Photo by Sean Kilpatrick /THE CANADIAN PRESS / FILES
The uproar among my conservative friends over the Justin Trudeau / Jagmeet Singh deal that should give the Liberals a chance to govern the country until 2025 in exchange for NDP support in the Commons reminds me of the chaos that came with the introduction of universal healthcare in Saskatchewan in the 1960s by the then CCF (today's NDP) by Premier Tommy Douglas.
Doctors in the province reacted with anger and frustration, culminating in a bitter strike when the province tried to bring in Canada's first universal health insurance plan.
Shortsighted is how the actions of these physicians can be described. By Nov. 2004 the supposedly hated founder of Canada's universal healthcare system was declared winner of CBC's Greatest Canadian contest.
Behind Douglas were Terry Fox and Trudeau Sr.
Today, millions across Canada, including yours truly, owe their health and escape from near death to a system where personal wealth is not the criteria for care, but one's need. Millionaires to the modest in Canada all owe it to the Scottish-born Baptist Minister turned socialist who dedicated his life from praying to God to serving God's humanity.