FATAH: My open letter to Vladimir Putin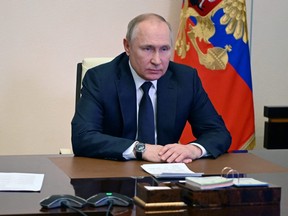 Russian President Vladimir Putin chairs a meeting with members of the Security Council via a video link at the Novo-Ogaryovo state residence outside Moscow, March 3, 2022. Photo by Andrey Gorshkov /Kremlin via REUTERS
Dear Vladimir Putin,
During my childhood, it was not difficult to hate Russia in the country of my birth — Pakistan. After all, you were close allies of our 'enemy' India on the east and Afghanistan on the West. Plus, you were the bastion of godless communists, and we were sworn as an Islamic State to destroy the 'kufaar' – atheists and non-Muslims.
They say curiosity kills the cat and in the mid-1960s I started my own reading about Russia only to discover the Second World War was so heavily a fight between Germany and Russia, not what was portrayed by Hollywood.
The fact 30 million Russians died defeating Hitler's Wehrmacht is a fact still largely unknown to the rest of the world who feel the D-Day landings turned the tide, not the battles in Ukraine where the Red Army wiped out the German army in today's Kharkiv and Kursk.
And thus began my exposure to the vast land with 14 time zones spreading from Vladivostok in the east to the Murmansk in the northwest bordering Finland — a journey I took with books by Russian authors such as Maxim Gorky's Mother, the novel he wrote on a trip to the United States in 1906 after the defeat of Russia's first revolution.