FATAH: Should Will Smith have been charged?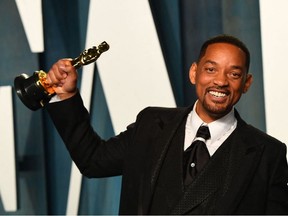 Will Smith holds his award for Best Actor in a Leading Role for "King Richard" as he attends the 2022 Vanity Fair Oscar Party on March 27, 2022. Photo by PATRICK T. FALLON /AFP via Getty Images
Cynics may argue that the Will Smith slap on Chris Rock was a staged event meant to renew interest in the Oscars, which has seen years of declining viewing figures.
The Academy was desperate for more people to watch the 2022 show and, according to the BBC, they tried all kinds of ways to boost ratings – "big stars, live performances, charismatic hosts, a new category and cutting the craft prizes down to edited highlights."
As for the law enforcement officers guarding the glitter and gold, they just stood and watched. LAPD released a statement revealing that Rock had declined to file a police report against Smith.
Like they say: It's not the crime, it's the cover up.
Will Smith's crime was the slap. His cover up was that ridiculous over the top, teary, toxic speech where he said he wanted to be a "vessel for love" not even an hour after he had slapped someone in front of millions of people. And when he had the chance to apologize to Rock and make amends he did not. (He did it later).