FATAH: Tears for Kyiv but none for Kabul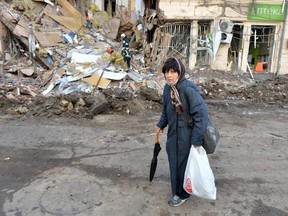 Rescuers remove debris from a building damaged by shelling in central Kharkiv on Wednesday, March 16, 2022, amid Russia's ongoing invasion of Ukraine. Photo by SERGEY BOBOK /AFP via Getty Images
If one were to rely on just the mainstream media, one would be left with the distinct impression that the Russian invasion of Ukraine was the only conflict on Earth while elsewhere in the world the tragedy of war was simply part of our 'uncivilized' culture and heritage.
If five Ukrainians die because of Russian shelling, our broadcasters make it the lead story. When more than 80 people are beheaded in Saudi Arabia in a mass public execution of 'criminals,' it gets a mere mention on the ticker at the bottom of our TV screens. Just the headline, nothing more.
Coming back to Ukraine, the issue that triggered Russia's criminal invasion of its western neighbour centred around Moscow's specific demand that Ukraine give a commitment it will not seek membership of NATO, the U.S.-led military alliance targeting Russia.
Kyiv shrugged off the Russian demand and refused to discuss it, citing international law that allows independent nations the right to decide their own foreign policies. President Volodymyr Zelenskyy of Ukraine, who has a natural flair as an actor and comedian, found an opportunity to rub Russia's nose into the ground and gave a performance of a lifetime, addressing parliaments and the U.S. Congress and winning accolades as Jack the Giant Killer, vowing to die fighting for Ukraine, but not for the eastern Russian-speaking lands of Donbas and Luhansk that have been under attack by Ukraine troops since 2014.