Formula 1 boss Max Mosley killed himself after terminal cancer diagnosis, inquest told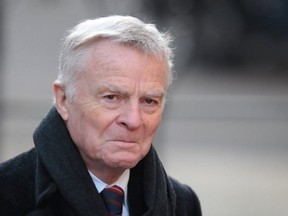 Former Formula 1 boss Max Mosley killed himself after learning he had just weeks to live, an inquest heard. Photo by Peter Macdiarmid /GETTY IMAGES
Colourful Formula 1 boss Max Mosley fatally shot himself after learning he only had weeks to live, a British inquest heard.
Mosley, 81, had been the chieftain of auto racing's governing body for 16 years. He killed himself last spring at his London home.
"He had an aggressive form of cancer and had been down. He said he'd had enough," neighbour Henry Alexander told the inquest. "We had been talking about the upcoming operation and he said he couldn't face it."
The detective who discovered the body said Mosley's doctor informed him that "the consultation was he may have two to three weeks left and this could have been the reason why he killed himself."
There was no sign of anything suspicious or any kind of forced entry, the officer added.