Freddie Freeman free agent frenzy adds spice to Blue Jays unfinished business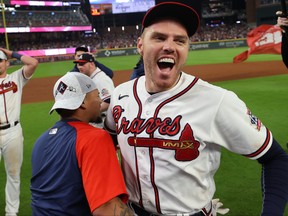 Freddie Freeman, formerly of the World Series champion Atlanta Braves, is a free agent. Photo by Todd Kirkland /Getty Images)
DUNEDIN — Admittedly the Freddie Freeman furor has been over the top, a natural combustion when free agency unfolds mere weeks before the start of baseball's regular season.
The fact that Blue Jays general manager Ross Atkins isn't about to douse any option with cold water right now makes the Freeman follies that much more intriguing, especially when the big hitting first baseman is linked to a team pegged to be destined for great things.
Without addressing the player specifically, Atkins said just enough on Tuesday to hint that Freeman is still in the picture, as multiple reports have suggested for months.
First up was the GM's interesting response when asked whether it's a possibility that Vlad Guerrero Jr. could see some time at third, a move that would certainly make room for Freeman, either as an every day guy or splitting duty with the young Jays star.
"I'm not closed off to much," Atkins said when asked about potential infield versatility for Guerrero, including playing at third. "We like to keep things open and stay as open-minded as possible about those different scenarios.