'Freedom movement' rallies planned to run in Ottawa all summer: Organizer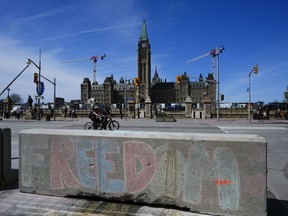 Chalk art remains in downtown Ottawa on May 1, 2022, following a protest. Photo by Sean Kilpatrick /The Canadian Press
OTTAWA — Events are set to take place in Ottawa in late June through Canada Day and the rest of the summer for what organizers say are to protest remaining COVID-19 pandemic-era restrictions.
Andrew MacGillivray, steering committee member for Veterans for Freedom, said in an interview posted on YouTube that it will hold a three-day conference in Ottawa next week, from Wednesday to Friday.
MacGillivray said the group's aim is to have the federal government repeal remaining mandates, reinstate federal workers who lost their jobs related to mandates and pay those workers for lost wages.
He said his group plans to hold a meeting with up to 17 MPs on Wednesday, who are "mostly Conservative," and the next two days will be town hall events with key people in the "freedom movement."
On June 30, Veterans for Freedom is co-ordinating a route for James Topp and his supporters to walk through parts of Ottawa to the National War Memorial. The route has received a police escort, said MacGillivray.