'Frozen' star Idina Menzel responds to viral Ukrainian girl singing 'Let It Go'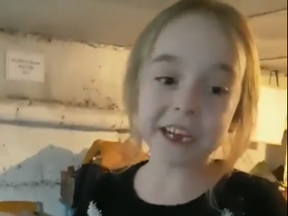 A young girl named Amelia sings "Let It Go" from the 2013 Disney movie "Frozen" in a bomb shelter in Kyiv. Photo by Screengrab
As Ukrainians huddled together in a dimly lit bomb shelter in Kyiv, seeking safety from deadly explosions and chaos overhead, one young girl wearing a sweater decorated with silver stars began to sing.
She was scared at first, worried that her voice would not be heard over the commotion inside the crowded bunker.
According to Smekhova, the young girl, named Amelia, has a passion for music and came across as "sociable" and "talkative."
"She told me that she loves to sing," Smekhova wrote in the post, which was first shared March 3. The young girl also whispered that she "dreams of singing on a big stage in front of an audience," Smekhova said.
Smekhova said she had encouraged the girl to sing – with the permission of her mother.