FUREY: Feds paid for online influencers to promote COVID-19 vaccines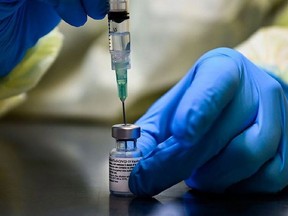 A health-care worker prepares a dose of the Pfizer-BioNTech COVID-19 vaccine at a University Health Network vaccine clinic in Toronto on Jan. 7, 2021. Photo by The Canadian Press /Toronto Sun
It's well-known that online influencers receive free swag and get paid to plug various products and messages.
But what may surprise some people is that there were Canadian influencers paid by the federal government to promote COVID-19 vaccines.
The influencers include Calgary-based mom Tamania, known online as Urdumom, who discusses recipes, travel and parenting with her 80,000 followers; Ky Kilabuk, based in Nunavut, whose popular TikTok account "arcticmakeup" generates millions of views; and Chris Robins, a Montreal-based man who has over 100,000 Instagram and TikTok followers.
The documents — which were first reported on by Blacklock's Reporter and tabled following a request by Conservative MP Warren Steinley — break down the goals of the vaccine campaign.
"The influencer campaign complemented the Government of Canada's overall strategy to help everyone in Canada make an informed decision about COVID-19 vaccines," Health Canada said, explaining the $123,000 contract.