FUREY: There's no need to fear populism coming to Canada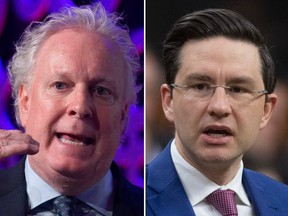 Jean Charest and Pierre Poilievre. Photo by File Photos /THE CANADIAN PRESS
The number of times someone has mentioned the name Jean Charest to me in the past decade, even if just in passing, is close to zero.
The only time the former federal Progressive Conservative leader and Quebec Liberal Premier has really come up in conversation has been in the context of: "Omg, did you hear Charest was consulting for Huawei to help them deal with the Meng Wanzhou issue?!" (Yes, he really did.)
He's the opposite of early frontrunner Pierre Polievre, the opposite of grassroots excitement and the opposite of populism.
That last word is key: Populism.
It means different things to different people. Some welcome it. Some fear it. But for anyone in an establishment position — for those who fancy themselves gatekeepers — what populism means to them is a potential loss of control as more people outside of the system ascend to influence and reframe the terms of debate.