FUSS: 3 things Canadians should look for in federal budget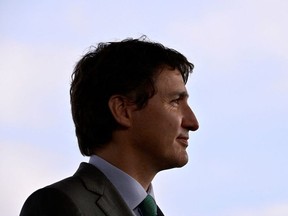 Canada's Prime Minister Justin Trudeau speaks to media at the GLOBE Forum 2022 in Vancouver, British Columbia, Canada March 29, 2022. Photo by JENNIFER GAUTHIER /REUTERS
The Trudeau government will table its next federal budget on April 7. While details of the government's plans are limited, the new Liberal/NDP agreement raises the spectre of higher government spending and new or expanded government programs.
Here are three key items Canadians should look for in the upcoming budget.
This government has a poor record with unexpected revenues and has frequently opted to increase spending rather than move towards budget balance. Before COVID, federal per-person program spending had already reached the highest point in Canada's history at $9,500 (adjusted for inflation) in 2019. If the Trudeau government chooses not to increase spending in this spring's budget, it could reduce the deficit significantly now and in the coming years.
Second, and relatedly, is there a realistic path to a balanced budget? Prime Minister Trudeau committed to "absolutely" return to budget balance post-COVID during his end-of-year comments in December 2020. His statement, however, rings hollow without a formal plan.