GENUIS: Discrimination based on political views undermines democracy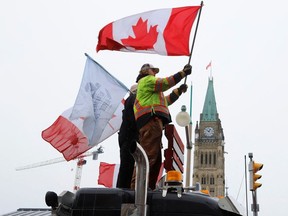 People wave flags on top of a truck in front of Parliament Hill as truckers and their supporters continue to protest against the COVID-19 vaccine mandates in Ottawa, Ontario, Canada, February 6, 2022. Photo by PATRICK DOYLE /REUTERS
Canadian political discourse is becoming much sharper in tone.
Many constituents tell me they feel less comfortable expressing their opinions, and fear reprisal in certain situations if they speak out.
Based on my concerns about political discrimination, I have introduced Bill C-257, an Act to amend the Canadian Human Rights Act (protecting against discrimination based on political belief). This bill would add "political belief and activity" to the list of prohibited grounds of discrimination in the Canadian Human Rights Act, alongside gender, religion, marital status, sexual orientation, and a long list of other characteristics. This bill does not propose to change laws on hate speech — any speech already prohibited by law would remain prohibited.
I had begun work on this bill long before the Liberal government invoked the Emergencies Act and my bill would have wide-reaching implications beyond any one incident. But the controversy around the Emergencies Act and in particular some of the statements made by government ministers in that context of the Emergencies Act debate underline why C-257 is necessary.