GIESBRECHT: Trudeau has irreparably damaged our country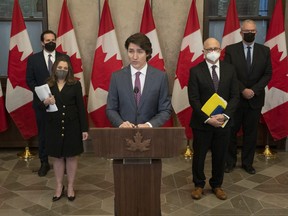 Public Safety Minister Marco Mendicino, Deputy Prime Minister and Finance Minister Chrystia Freeland, Justice Minister and Attorney General of Canada David Lametti and President of the Queen's Privy Council for Canada and Emergency Preparedness Minister Bill Blair stand behind Canadian Prime Minister Justin Trudeau announces the Emergencies Act will be invoked to deal with protests, Monday, February 14, 2022 in Ottawa. Photo by Adrian Wyld /THE CANADIAN PRESS
Asked why he supported some protests but was determined to crush the trucker convoy, Justin Trudeau answered without hesitation: He supported — and even participated in — protests he agreed with, but he did not support — and vowed to crush — those with "unacceptable views," that is, views he disagrees with.
We are now seeing how far his NDP-backed Liberal government is prepared to go to economically disenfranchise those who hold "unacceptable views." A convoy organizer was jailed and led into court in shackles. Bank accounts were frozen, businesses were destroyed, and many working Canadians will find it impossible to earn a living in their own country.
And there is no doubt that both the economic damage and the disruption were real.
But both of those things have happened many times before as a result of legitimate protests, and the federal government has never taken Trudeau's draconian steps before.
The Wet'suwet'en protests and railway blockade in February 2020, for example, caused more economic damage and severe disruption for many thousands of Canadians than the Freedom Convoy. But the federal government didn't implement the draconian measures they did with the truckers. In fact, Trudeau was quite sympathetic.