GOLDSTEIN: Another fight for free speech at University of Toronto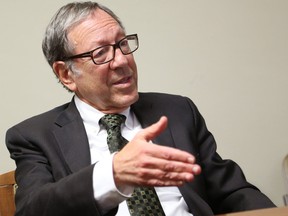 Former MP and former cabinet minister Irwin Cotler is pictured in a file photo. Photo by Jean Levac /Postmedia Network
Universities today are the place where free speech goes to die.
They are overrun by people who have no understanding that — within the bounds of anti-hate and defamation laws — there is no constitutional right never to be offended by ideas you disagree with.
That definition, explained below, has been adopted by 31 countries, including Canada, the U.S, U.K., Germany, France and Sweden.
Cotler criticized the United Nations for selectively targeting Israel for condemnation year after year as the world's worst human rights violator, while giving a pass to countries like China and Russia.
He cited the infamous 2009 UN-sponsored Durban conference on racism, that devolved into an unrelenting attack on Israel and was boycotted by Canada, the U.S., Germany and other countries as a result.