GOLDSTEIN: Canada gets new climate plan — after 34 years of failures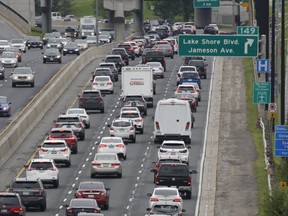 Traffic is seen on the Gardiner Expressway in Toronto. Photo by Jack Boland /Toronto Sun
If past practice is the best indicator of future performance, take Prime Minister Justin Trudeau's about-to-be-announced plan to dramatically lower Canada's greenhouse gas emissions by up to 45% below 2005 levels by 2030, with a huge grain of salt.
In 2005, Canada emitted 739 million tonnes of greenhouse gases. To reduce that by 45% by 2030 would mean our current emissions of 730 million tonnes (as of 2019, the last year for which government data are available) must be slashed by 324 million tonnes, down to 406 million tonnes, by 2030.
Here's a brief history of what happened.
In 1988, Mulroney promised to reduce Canada's emissions to 20% below 1988 levels by 2005, as did Chretien when he took office in 1993.
That would have lowered Canada's emissions to 470 million tonnes in 2005. Canada's emissions that year were 739 million tonnes, meaning we missed the Mulrony-Chretien target by 269 million tonnes.