GOLDSTEIN: Canada — The Great Convenor of the Great Reset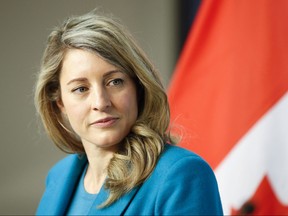 Canadian Foreign Minister Melanie Joly looks on during a news conference with high representative of the European Union for Foreign Affairs and Security Policy Josep Borrell (unseen) in Brussels, on Jan. 20, 2022. Photo by JOHANNA GERON/POOL /AFP via Getty Images
Foreign Affairs Minister Melanie Joly gave us a glimpse into the mindset of the Trudeau government last week when she described Canada's role in international affairs as a convenor of meetings.
"We're a middle-sized power and what we're good at is convening and making sure that diplomacy is happening and convincing other countries to do more," Joly said on CTV's Power Play.
Trudeau told Dawson he didn't have any concerns about participating in a May 2016 bilateral meeting with the Aga Khan, during which he reaffirmed a $15 million government grant to one of the Aga Khan's charities agreed to by the Harper government, because he didn't consider it a "business meeting."
This even though staff from the Prime Minister's Office, senior government officials, then heritage minister Joly and representatives of the Aga Khan foundation were all present.
Dawson said Trudeau told her he believed: