GOLDSTEIN: Ford believes best shot at re-election is to support Trudeau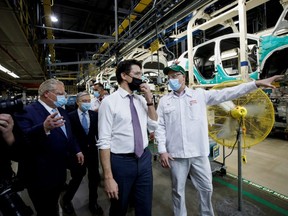 Ontario Premier Doug Ford and Prime Minister Justin Trudeau visit the production facilities of Honda Canada Manufacturing in Alliston, Ont., Wednesday, March 16, 2022. Photo by Cole Burston /REUTERS
Ontario Premier Doug Ford has decided his best chance of re-election in June is to cozy up to Prime Minister Justin Trudeau rather than anyone in the federal Conservative leadership race.
On Wednesday, Ford appeared with Trudeau as they jointly announced an investment of $131.6 million each by the Ontario and federal governments in Honda Canada's $1.4 billion project to retool its Alliston, Ont. plant to produce hybrid electric vehicles.
The Conservative race is already a cat fight with three of the contenders – Pierre Poilievre, Jean Charest and Patrick Brown – throwing everything but the kitchen sink at each other, which Ford is wise to sidestep.
Ford also knows mainstream Ontario voters historically prefer a Progressive Conservative government at Queen's Park when there is a Liberal one in Ottawa, while simultaneously wanting them to work together.
The Ford and Trudeau governments can credibly say that is what they're doing, contrary to the myth espoused mainly by Trudeau's rabid army of armchair Twitter warriors known collectively as the Truanon, who falsely portray Ford as the root of all evil, intent on wrecking Canada.