GOLDSTEIN: Ford spending at faster pace than Wynne, study finds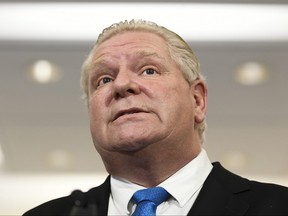 Ontario Premier Doug Ford speaks during a funding announcement at the Ottawa Hospital Civic Campus in Ottawa, Friday, March 25, 2022. Photo by Justin Tang /THE CANADIAN PRESS
Ontario Premier Doug Ford has abandoned fiscal conservatism and is spending money at a faster rate than the previous Liberal government headed by Kathleen Wynne, according to a new study by the Fraser Institute.
In fact, the report says, Ford's Progressive Conservative government could balance the province's books next year by reducing program spending in its April budget to the level of the Wynne government in 2015-16, adjusted for inflation.
The report projects the government would need to cut its annual spending by 4.8%, or $9.1 billion, from this year's budget to balance the books next year adding, "such a reduction would still leave per-person spending (adjusted for inflation) higher than it was in the fiscal year 2015-16."
The report acknowledges the plunge in provincial government revenues caused by the COVID-19 pandemic, but notes this was largely offset by increased grants from the federal government, while provincial government spending continued to surge.
"The result was substantial budget deficits," the report says.