GOLDSTEIN: Trudeau's carbon tax failed to do what he promised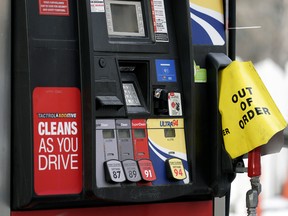 Photo by LARRY WONG /POSTMEDIA
Prime Minister Justin Trudeau's ostensible plan to transition Canada from fossil fuels to green energy is in shambles.
When Trudeau became PM in 2015, he told Canadians that a carbon tax would create the "social licence" necessary to build oil and gas pipelines. That the profits from our increased capacity to get our oil and gas resources to tidewater and from there to international markets — as opposed to selling them at huge discounts to the U.S. —  would help pay for Canada's expensive transition to a green economy.
Trudeau's carbon tax did not stop Quebec from opposing the Energy East pipeline, which was then scrapped.
It did not stop two U.S. presidents — first Barack Obama and then Joe Biden — from killing Keystone XL, after Donald Trump briefly revived it.
It hasn't ended opposition to the Coastal Gas Link pipeline from hereditary Indigenous chiefs, although elected band councils support it.