GUNTER: Canada is already doing a solid job at controlling GHGs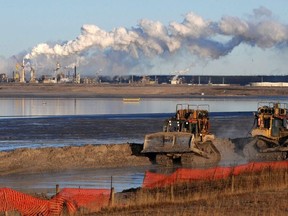 Workers use heavy machinery in the tailings pond at the Syncrude oil sands extraction facility near the town of Fort McMurray in Alberta Province, Canada on October 25, 2009. Photo by MARK RALSTON /AFP PHOTO/Mark RALSTON
When it comes to greenhouse gas emissions, the oil and gas and transportation sectors generate just about the same amounts of CO2, methane and other gasses that allegedly make climate change worse.
In 2019, the last pre-pandemic year, oil and gas were responsible for 26% of Canada's total emissions, transportation for 25%.
For instance, since 2005 (which is the base year Ottawa and the UN like to use to compare increases or decreases in carbon emissions), Canada's per capita production of greenhouse gasses has already gone down by nearly 20%.
Bet you would never have guessed that from all the hysteria and alarmism from politicians and the media.
And while our overall emission of GHGs (greenhouse gasses) has remained roughly the same over the past 17 years, the good news is it hasn't gone up.