GUNTER: Canada's nanny state wants to label ground beef unhealthy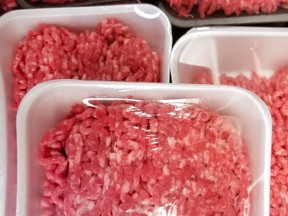 A variety of packages of ground beef. Photo by Stock art /Getty Images
I'm not sure there's as much to worry about as ranchers and the Alberta government think there is. Still, it's the principle of the thing.
Ottawa wants to stick preachy new labels on the front of ground beef packages warning that the contents are unhealthy. (And Health Canada means unhealthy to eat even after it's cooked, not just raw, which we all already know.)
My money's on the burger and brew, which means my money's on the innate good sense of ordinary Canadians to ignore the smug, eat-your-peas messaging of Ottawa's health nannies.
Of course we'd be better off with a handful of celery sticks, some rice cakes and a cup of skimmed milk, but where would the fun in that be?
A dietician once told me if I followed her simple diet, I could live 10 years longer. I told her if I had to eat like that, I might survive 10 extra years, but it would hardly be living.