GUNTER: Here's what Liberal-NDP deal means for political landscape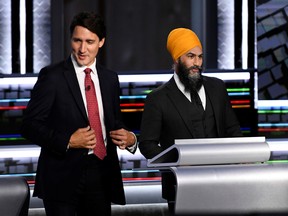 Liberal Leader Justin Trudeau and NDP Leader Jagmeet Singh take part in the federal election English-language debate in Gatineau, Sept. 9, 2021. Photo by Justin Tang / Pool /REUTERS
After this week's footsie game between Justin Trudeau and Jagmeet Singh, why would anyone ever vote NDP again?
Remember the old idiom: A distinction without a difference? Well, that is precisely what the NDP now are to the Liberals.
Well then, good luck with Jean Charest. When he was Quebec premier, his government passed legislation to limit public gatherings of more than 50 people and to give police extraordinary powers to detain marchers in response to weeks of student protests over increased tuition fees.
And whether as a member of Brian Mulroney's government or as head of his own Quebec government, Charest never met a public dollar he couldn't spend or a tax he couldn't raise.
With Singh and Charest as the two main alternatives to Trudeau, neither the New Dems nor the Tories would be different enough from the Liberals to offer voters a true choice.