GUNTER: More falsehoods about the convoy are now being retracted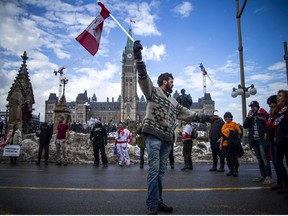 A small group of "Freedom Convoy" protesters were on Wellington Street, while the Ukrainian gathering took place on Parliament Hill, Sunday, March 6, 2022. ASHLEY FRASER, POSTMEDIA Photo by Ashley Fraser /Postmedia
The CBC has retracted a second story it reported about the Freedom Convoy that turned out to be fake.
The first was the absurd allegation that somehow Russians were behind the scenes pulling the convoy's strings in an effort to destabilize the Canadian government.
On Feb. 10, the CBC reported it had thoroughly investigated donations given to the Freedom Convoy through the popular online fundraising service GoFundMe. The state broadcaster concluded there were thousands of suspicious donations from foreigners. Even more sinisterly, the CBC added "The donations identified by CBC News are likely only a fraction of all the donations made by people outside of Canada."
These allegations have been thoroughly debunked by GoFundMe and by GiveSendGo, the second online fundraising platform the convoy organizers had to turn to when false allegations about unscrupulous donations and violence among protestors caused GoFundMe to freeze the first avalanche of contributions the convoy received.