GUNTER: Woke Liberals move to dictate what is news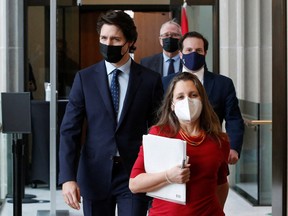 Prime Minister Justin Trudeau arrives with Deputy Prime Minister and Minister of Finance Chrystia Freeland, Minister of Public Safety Marco Mendicino, and Minister of Emergency Preparedness Bill Blair at a news conference to announce that the Emergencies Act is being revoked, in Ottawa, Feb. 23, 2022. Photo by Patrick Doyle /REUTERS
What's the biggest threat to Canadian democracy?
Horn-honking, bouncy-castling truckers? White nationalists marching with tiki torches held high?
You already know about the Trudeau government's proposed legislation to give government-appointed bureaucrats the authority to pull down webpages that are legal but "inappropriate," without first seeking permission from a judge.
But you may not have heard that the Trudeau government's Heritage department gave nearly $3 million to the Policy Forum, headed by former Toronto Star vice-president Edward Greenspon.
The purpose of the tax-funded grant? To identify "reliable" reporters and coach them on the nature and forms of misinformation and how to report on it during an election.