Hailey Bieber 'doing well' after suffering blood clot to brain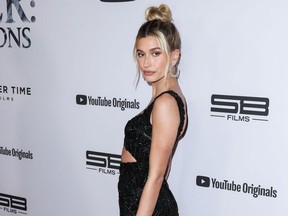 Hailey Bieber. Photo by Photoshot /Bang Showbiz
Hailey Bieber is "doing well" after suffering a blood clot to her brain.
The 25-year-old model – who has been married to pop star Justin Bieber, 28, since 2018 – took to social media following reports that she had been hospitalized to confirm that she had been treated for "stroke-like symptoms" and recovered in a matter of hours.
She continued: "Although this was definitely one of the scariest moments I've ever been through, I'm home now and doing well, and I'm so grateful and thankful to all the amazing doctors and nurses who took care of me! Thank you to everyone who has reached out with well wishes and concern, and for all the support and love."
Hailey's post comes soon after TMZ had reported that the condition "affected the way she moved, and the symptoms are typical for much older people," with a source claiming that doctors had ran a number of tests and are still trying to conclude the root cause of the problem.
The news of Hailey's health struggle comes just weeks after 'Sorry' hitmaker Justin Bieber was forced to postpone a Las Vegas concert after he and some members of his touring team had tested positive for COVID-19 but was said to be "feeling OK."