HANSON: 10 realities of Ukraine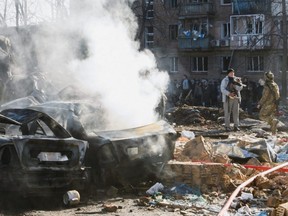 A man carrying a dog speaks with a member of the Ukrainian military next to cars damaged by shelling in a residential district of Kyiv, as Russia's invasion of Ukraine continues, Friday, March 18, 2022. Photo by Vladyslav Musiienko /REUTERS
One – Reassuring an enemy what one will not do ensures that the enemy will do just that and more. Unpredictability and occasional enigmatic silence bolster deterrence. But U.S. President Joe Biden's predictable reassurance to Russian President Vladimir Putin that he will show restraint means Putin likely will not.
Two – No-fly zones don't work in a big-power, symmetrical standoff. In a cost-benefit analysis, they are not worth the risk of shooting down the planes of a nuclear power. They usually do little to stop planes outside of such zones shooting missiles into them. Sending long-range, high-altitude anti-aircraft batteries to Ukraine to deny Russian air superiority is a far better way of regaining air parity.
Four – China is now pro-Russian. Beijing wants Russian natural resources at a discount. Russia will pay for overpriced access to Chinese finance, commerce, and markets. Yet if Russia loses the Ukraine war, goes broke, and as an international pariah is ostracized, then China will likely cut the smelly Russian albatross from its neck – in fear of new Western financial, cultural, and commercial clout.
Five – Americans are finally digesting just how destructive the humiliating flight from Afghanistan was. The catastrophe signaled to Russia, China, North Korea, and Iran that Western deterrence had died.
No surprise that Russia sent missiles into a Ukrainian base near the Polish-NATO border. North Korea in January launched more missiles than in any month in its history. Iran sent missiles into Kurdistan. China announces daily it is just a matter of time until it absorbs Taiwan. The tens of billions of dollars of sophisticated weaponry sent to Ukraine by the West are still far less than what the U.S. military handed over to the terrorist Taliban.