HANSON: What the Jan. 6 committee might have been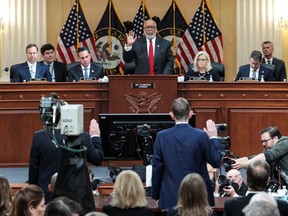 Chairperson Bennie Thompson (D-MS) swears in J. Michael Luttig, former U.S. federal judge and advisor to former U.S. Vice President Mike Pence, and Greg Jacob, former counsel to Mike Pence during the third public hearing of the U.S. House Select Committee to Investigate the Jan. 6 Attack on the United States Capitol, at Capitol Hill, in Washington, June 16, 2022. Photo by Drew Angerer /Pool via REUTERS
Congress should investigate fully the Jan. 6 riot at the Capitol – and similar recent riots at iconic federal sites. But unfortunately, it never will. Why not?
The current committee is not bipartisan. House Speaker Nancy Pelosi, D-Calif., forbade Republican nominees traditionally selected by the House minority leader to serve on the committee. No speaker had ever before rejected the minority party's nominees to a select House committee.
In contrast, the Jan. 6 show trial features no dissenting views. Its subtext was right out of the Soviet minister of Internal Affairs Lavrentiy Pavlovich Beria's credo: "Show me the man and I'll show you the crime."
If Trump was not considering a third run for the presidency, would the committee even have existed?
Its slick Hollywood-produced optics demonstrate that the committee has no interest in inconvenient facts. Why did a Capitol officer lethally shoot a petite unarmed woman entering a Capitol window? And why was the officer's identity and, indeed all information about his record, withheld from the public?