HOUSAKOS: Charest's track record not what Canada needs in a leader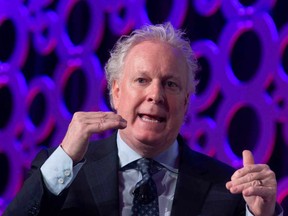 Former Quebec premier Jean Charest. Photo by file photo /Postmedia Network
Last week my former colleague and Liberal appointee Andre Pratte inserted himself into our party's leadership by inviting Conservatives to ask ourselves who is best suited to defeat the Liberals in the next election. Good question.
In the view of Mr. Pratte, someone who you can be sure won't be casting a ballot for any of the contenders, that person is Jean Charest. The trouble with Pratte's argument is that it bears very little relationship to Charest's track record. Unlike most objects that appear in the distance, Charest's record shrinks as you draw closer.
The country didn't need saving.
Charest lost the 1998 election to Lucien Bouchard, who never held another referendum. By 2003, Quebeckers had moved on from the separation debate when Charest's Liberals won that year's election on a promise to cut taxes, find savings, and fix the province's ailing health care system.
He did neither.