JAREMKO: Feds wrong, Canada can help Europe deal with oil troubles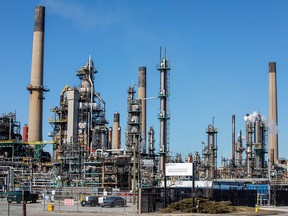 General view of the Imperial Oil refinery, located near Enbridge's Line 5 pipeline in Sarnia, Ontario, March 20, 2021. Photo by Carlos Osorio /REUTERS
DEBORAH JAREMKO
Federal Environment Minister Steven Guilbeault said recently that Canada isn't the solution to the energy security crisis caused by Russia's invasion of Ukraine.
But the European market can't be viewed in isolation.
It's part of the global oil trade, where, driven by emerging economies in Asia and Africa, overall demand is expected to increase to 103 million barrels per day in 2030, from 97 million barrels per day in 2019. In 2050, the IEA expects the world will still consume 103 million barrels per day.
The Trans Mountain pipeline expansion being built to the B.C. coast is a step in the right direction to help reduce global reliance on Russia for oil, but with its vast resources and commitment to responsible development, Canada can do more.