KALL OF DUTY: Kallgren makes 35 saves to record shutout in first NHL start for Maple Leafs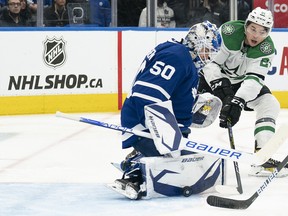 Dallas Stars' Jason Robertson battles for the puck in front of Maple Leafs goaltender Erik Kallgren during the second period at Scotiabank Arena on Tuesday, March 15, 2022. Photo by NICK TURCHIARO /USA TODAY SPORTS
Erik Kallgren couldn't figure out how to get into Scotiabank Arena when the Maple Leafs recalled him last Thursday.
Five days later, and for at least one game, the goaltender got the Leafs out of a goaltending mess.
Last week, Kallgren texted Leafs defenceman and fellow Swede Rasmus Sandin when he realized he needed to find a way into the club's home rink.
"That was the first text I got, letting him in here," Sandin said. "That was how I figured out he was called up. I'm super happy for him.
"He made some really good saves. He looked really calm back there."