KINSELLA: Breaking down the motive for this undemocratic Liberal-NDP backroom deal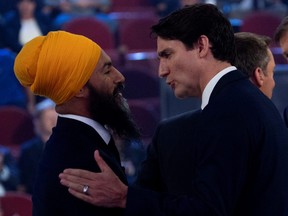 Liberal Leader Justin Trudeau and NDP Leader Jagmeet Singh shake hands following the federal leaders French language debate in Gatineau, Quebec, October 10, 2019. Photo by Adrian Wyld /Pool via REUTERS
The problem with backroom deals is that they don't stay in the backroom. They leak out.
Also, they don't just look secretive, they look sneaky. And, because they are done behind closed doors with just a chosen few, they look wildly undemocratic, too.
For now, us mere mortals — you know, the ones who previously thought we were the bosses in this erstwhile democracy — are left to contemplate motive. Which is what everyone does when confronted with a crime scene. Since we know whodunnit, in this undemocratic crime, we are left to ask: Why did they?
This writer counts four possibilities. Here they are.
One, the Liberals are worried about who the next Conservative leader will be. If it were to be Pierre Poilievre, the backroom deal-making wouldn't have been necessary: Internal Liberal polling apparently shows that the Ottawa-area MP, if victorious, will guarantee continued Liberal hegemony.