KINSELLA: Jean Charest looks like only adult in Conservative leadership race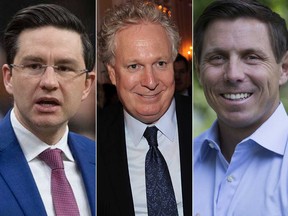 Pierre Poilievre, left, Jean Charest, centre, and Patrick Brown are running for the leadership of the Conservative party. Canadian Press / Postmedia Network / Files
So, Pierre Poilievre and Patrick Brown are ripping each other's faces off.
Basically, that's what they're doing.
Here's what they are about: working the phones, raising money, and selling memberships. Being positive about your team.
Here's what leadership contests aren't about: attack ads, war rooms, and take-no-prisoners politicking. Being negative about your team.
All of that may seem to be blindingly obvious, but not to pipsqueaks Pierre and Patrick. Poilievre and Brown don't seem to get that.