KINSELLA: Pierre Poilievre takes his arrogance to the bank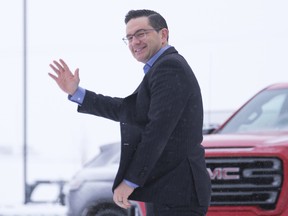 Pierre Poilievre arrives to a press conference at Brandt Tractor Ltd. in Regina on Friday, March 4, 2022. Photo by Michael Bell /THE CANADIAN PRESS
Pierre Poilievre hates Canada's central bank.
And who doesn't hate the banks, right? But hating this particular bank while running for prime minister? That's a big problem.
Central banks also determine interest rates, which is basically setting the cost of money. So, as you can see, the central bankers — who aren't elected, but are selected by elected representatives — have a very big impact on your life and mine.
Poilievre says the Bank of Canada is "an ATM machine" for the government, which is a lot of crap. He says it's "more and more political," which also isn't true. He supports a private member's bill that would "audit" the Bank of Canada, which isn't needed — because it already has auditors on its board.
Now Poilievre isn't the first politician who wanted to control a central bank. Demagogues do it all the time. Donald Trump attacked America's central bank regularly, likening it to a dictatorship, a form of government he usually approved of. Globally, Russian allies like Turkey's Recep Tayyip Erdogan to India's Narendra Modi have gone after central banks, as well.