KINSELLA: Ten points to consider in ending the mess in Ottawa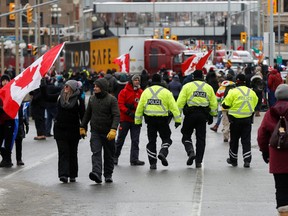 Police officers walk in the crowd, as truckers and supporters continue to protest coronavirus disease (COVID-19) vaccine mandates, in Ottawa February 6, 2022. Photo by Lars Hagberg /REUTERS
Ottawa has declared a state of emergency. Police are parading in riot gear. Laws are being broken. Protesters are being arrested.
Does any of that mean anything?
Not really. Not until governments and police make the decision to do something significant and real. And, so far, all that is significant and real is the unravelling of the career of Ottawa Police Chief Peter Sloly. He's been an unmitigated disaster.
So, what happens if — as many usually peace-loving Ottawans clearly want — the cops start swinging batons and cracking heads?
Training exercises help cops. They help to protect people, too — those exercising their constitutional rights, civilians who live in the protest zones, and the officers themselves. And in Ottawa, as noted, that didn't happen either.
Ten points.
1) Dozens of U.S. studies show us that a lack of adequate planning and preparation causes the police to be reactive, rather than proactive. The American experience has repeatedly shown the need for planning, logistics, training, and police command-and-control supervision. Given the chaos and criminality reigning in the nation's capital, it's obvious that the police have lost control.
2) Escalation by police usually leads to more confrontations and violence. It just does. Putting police in military-style gear is usually how escalation happens. And militarization — dressing up like combat troops, basically — is usually a big mistake. It puts otherwise peaceful protesters on edge and often makes them combative. De-escalation keeps everyone — protesters and police — safer.