Liberals, NDP reach deal to keep minority government in power till 2025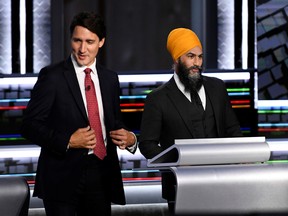 Liberal Leader Justin Trudeau and NDP Leader Jagmeet Singh take part in the federal election English-language debate in Gatineau September 9, 2021. Photo by Justin Tang /Pool via REUTERS
OTTAWA — The Liberals and New Democrats have reached an agreement that would see the NDP support Justin Trudeau's minority government through to 2025.
The deal is a "confidence and supply" agreement effective immediately, Trudeau said Tuesday.
"The message from Canadians was as clear as the mandate they gave Parliament: work together to put people and families first, deliver results and build a better future," Trudeau said.
"What this means is that during this uncertain time, the government can function with predictability and stability, present and implement budgets and get things done for Canadians."
Trudeau said the deal would focus on issues on which the parties agree, rather than disagree, including action on dental care, pharmacare, climate change, housing and paid sick leave.