LILLEY: Abandoning a state of fearful caution to embrace life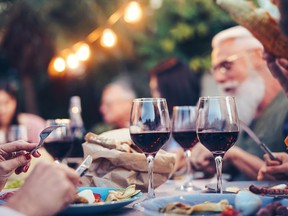 (Getty Images file photo)
I didn't get to do much clapping or cheering for the Leafs as I sat at Scotiabank Arena last Wednesday night for their 5-1 loss to the Buffalo Sabres — their first game with capacity back to 100% capacity.
Still, it was good to be back to see friends, share stories, smile, laugh, and even watch a bit of hockey in a game we'd all rather forget.
Both Thursday and Friday nights were spent having dinner with groups of friends in different parts of town. Again, there was no sense of apprehension from anyone I encountered regardless of age, gender, political background, or other factors.
There were no awkward moments as people tried to figure out how to greet one another. No attempts at elbow bumps or foot taps, no waving across the table at friends you would normally embrace.
Hands were shaken, cheeks were kissed, hugs were given.