LILLEY: Bike lanes to give commuters a shock as they return to office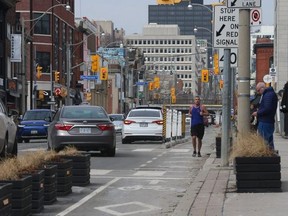 While there were no cyclsts, a jogger used a bilke lane on Yonge St., about two kilometres north of Bloor St., just south of Macpherson Ave., on March 18, 2022. Photo by Jack Boland /Toronto Sun
When office workers start commuting back into Toronto's downtown core over the next few weeks, they'll run into an obstacle they didn't see when they fled their desks two years ago – bike lanes.
A clear side effect of COVID-19 that is little discussed are the bike lanes that have popped up all over the city, many on major arterial roads.
Enter the group, BeRationalTO.
The group, which has obtained more than 1,600 signatures on its petition to remove the bike lanes on Yonge, between Bloor and Davisville, maintains that they are not opposed to bike lanes but that this isn't the place for them.
The group noted the narrowness of Yonge St in that area, the poor sightlines, the hazardous impact on firetrucks and ambulances trying to get through narrow, crowded streets.