LILLEY: Brown cleared for takeoff in Conservative leadership race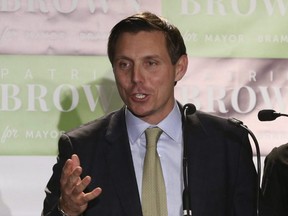 Brampton Mayor Patrick Brown is expected to join the battle to lead the federal Conservative party. Photo by Jack Boland /Toronto Sun / Files
Patrick Brown's dream of being premier of Ontario was ended by a false and reckless CTV story four years ago. Now, his dream of running to be leader of the federal Conservative party has been made possible by CTV admitting they goofed up badly with that story.
"Key details provided to CTV for the story were factually incorrect and required correction. CTV National News regrets including those details in the story and any harm this may have caused to Mr. Brown," CTV said in a statement.
He will be one of many candidates entering the race.
While MP Pierre Poilievre announced his candidacy weeks ago and has been travelling the country meeting supporters, his time as the sole candidate is now up. MP Leslyn Lewis, who came third in the last leadership race, announced her intentions to seek the top post on social media on Tuesday.
"I'm running to lead our party and our country based on hope, unity and compassion," Lewis posted on social media along with a video of her speech in Parliament against the Emergencies Act.