LILLEY: Conservative leadership about picking someone who can win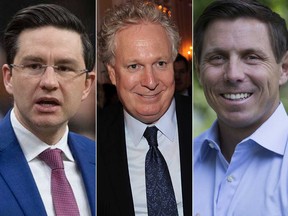 Pierre Poilievre, left, Jean Charest, centre, and Patrick Brown are all eyeing the federal Conservative Party leadership. Photo by file photos/ADRIAN WYLD /Canadian Press/Postmedia Network
Members of the Conservative Party of Canada have one job ahead of them: Select the leader who can take them from 34% voter support to the halls of power.
That's it. That's the job.
The current race is still taking shape and candidates are jumping in or dropping out by the day. MP Michael Chong announced he is out on Friday while former MP and current Brampton Mayor Patrick Brown will officially announce his bid on Sunday morning.
This past week has focused on the battle between the first candidate to announce, Pierre Poilievre, and a big name from the past, Jean Charest. The Poilievre team obviously see Charest as a potential threat given that they have come at him hard and early with attacks on social media and an op-ed by Sen. Leo Housakos in the Sun.