LILLEY: Data backs up removal of mask mandates — just look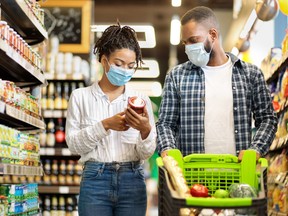 This photo depicts a couple obeying masking rules while shopping for groceries Photo by file photo /Getty Images
A week from now we all get to choose when to wear a mask rather than being told.
Masking requirements will lift in most settings in Ontario on March 21, although they will still be required in hospitals, and long-term care and public transit settings until the end of April.
Of course, when masking became commonplace in cities across the province in the spring and summer of 2020 there were no vaccines available.
We now have 91% of the population over the age of 12 fully vaccinated, 86% of those over the age of five fully vaccinated, and for those most at risk, the rate is even higher. Throughout COVID, those most at risk were people over the age of 60 where vaccination rates are at 96% and above.
It's been two years since COVID was declared a global pandemic; we have developed vaccines and therapeutics since then.