LILLEY: Elliott's departure and what it means for Ford's re-election chances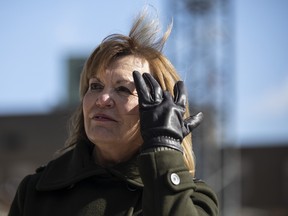 Ontario Health Minister Christine Elliott attends an announcement in Toronto, Friday, March 4, 2022, as she confirms that she will not be seeking re-election in June. Photo by CHRIS YOUNG /THE CANADIAN PRESS
A government losing a prominent cabinet minister is always big news. When it is the deputy premier and the health minister who has taken you through the pandemic, that is bigger news. So, Christine Elliott's departure from the Ford government was the big headline at Queen's Park on Friday morning.
Elliott confirmed the story, first broken by CBC's Mike Crawley on Thursday night, first through a statement and then taking media questions outside a north Toronto hospital.
It's the second recent high-profile minister to leave. Rod Phillips announced he wouldn't run back in January. Some might try to read into this that Ford's PC Party is in trouble and that's why ministers are leaving but that isn't the case here.
Phillips left to return to private life, hinting at the toll that public service can take on families. In the case of Elliott, she's almost 67, she's been an MPP for 13 years, and she's also exhausted from running the health file for the last two years.
Ford and his party have issues as we head to the election, but these departures are not the result of any of those problems.